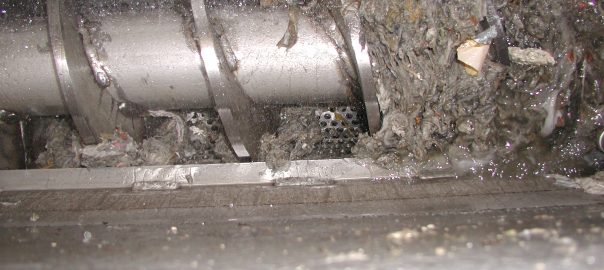 A sewage grinder pump grinds the matter in wastewater to help it flow from a low spot to sewer lines. In a commercial setting, such as a restaurant, the grinder pump would work like a garbage disposal to grind up foods and items that go down the drain. The smaller pieces travel through pipes with a lower risk of creating a clog that could damage lines.
A grinder pump system handles things that get flushed down the toilet that shouldn't be. If you have clients that flush baby wipes even though they do not dissolve, a grinder pump helps prevent clogs. Patrons may not realize that flushing a tampon applicator is terrible news for sewer lines. Your kitchen staff can put food scraps down the sink without causing blockages.
Meanwhile, the pump ensures the wastewater makes it up slopes and from low points. Imagine your restaurant is at the bottom of a hill, but the wastewater district's pump station is at the top of the incline. If your building has any basement-level kitchens, laundry rooms, or bathrooms, a grinder pump helps process the solid waste with the wastewater. From there, the pump pushes it up and to the sewer lines.
Pumps push the water so that it moves in the right direction and don't backflow into your sinks, toilets, and drains in the lowest point of your business, costing you hundreds or thousands of dollars to sanitize and clean surfaces.
Tips for Choosing Sewage Grinder Pumps
Choosing the best commercial sewage grinder pumps comes down to your needs. A sewage grinder pump needed in a large building with multiple office spaces will be far different from a pump required in a food processing company. Restaurants, bars, and hotels are other businesses that benefit from commercial sewage grinder pumps. These are the things you need to consider when you start researching your options.
#1 – The Motor's Horsepower
A commercial sewage grinder pump will be different from a sewage grinder pump you'd use at home. It handles more wastewater, so the pump needs to be equipped to handle the higher capacity. Many residential grinder pumps range from 0.5 HP to 1 HP and have an RPM of around 3,000. A commercial grinder pump has a more powerful motor that's often 2 HP or higher, and the RPMs usually are in the area of 3,500.
In a building with multiple bathrooms or kitchens, this is important. A pump with less power is more likely to become overwhelmed and need repairs or replacement. You have to make sure you're installing a pump that can meet your wastewater demands. The right size pump lowers your maintenance and repair costs over time.
#2 – The Grinder's Revolutions Per Minute (RPM)
Higher RPMs help the pump grind solid materials into a slurry. The faster it does this, the better it is to prevent backups or clogs. If you own a brewery with its own small wastewater treatment plant, you'd need a grinder pump that can handle any grains or hops that make it through filtration.
#3 – The Max Flow Rate
Check the pump's max flow rate. If your business has upwards of 100 gallons of wastewater each minute, you want a pump that handles that much sewage. You'll know this by the max flow rate that's given in terms of gallons per hour. If it can handle 6,340 gallons per hour, it would manage an average of over 100 gallons per minute.
#4 – The Pump's Construction
How does the pump work? For a commercial sewage grinder pump, you may need a control panel setup. Otherwise, systems use a float to turn the pump on and off when needed.
Check the grinder pump's discharge design. Most have a vertical pipe that comes out of the top. A vertical design is often ideal. Ensure you have this type over a horizontal discharge requiring a 90-degree pipe section for the wastewater to travel upward.
You also need to look at the type of materials the grinder pump is made from. Many have cast iron bodies with stainless steel cutters to grind the materials into small pieces. You want a clog-free design on the impeller. Look for oil-filled, sealed motors that don't require a lot of maintenance.
#5 – Head Height
Look at the head height. Head height is the distance (vertically) from the lowest level of the wastewater at the pump to the high point where it exits the building for sewer lines. Sewer lines usually run from the building into the sewers at the lowest level of a building. In some constructions, this means you're sending water from the top floor to the basement and out of the building to the sewers.
If the head height offers a lift of 20 feet, but your basement or lowest area is 30 feet below the drainpipe, the head height is not sufficient. The pump needs to be powerful enough to push the water up and away from your building. If the head height is lower, the lift will not be as great, so it will struggle to move the wastewater.
Know Your Local and State Codes
A commercial sewage grinder pump system may even be required in your city or district. And it has to follow the rules outlined in city or state legislation. For example, where sewage pumps are necessary for "backwater protection" in a Wisconsin business, the grinder pump has to have opening and discharge piping diameters of no less than 1.25 inches.
It's up to you to make sure you're meeting those laws. The best way to ensure you comply is by working with an expert in wastewater equipment and design. Meeting your budget is essential, but it's not always the best path forward if it means you'll be fined or shut down for ignoring these codes.
Have You Considered Screw Pumps?
If your company is larger, screw pumps may suit your needs. There are both open and enclosed screw pumps available to help move wastewater up slopes. No matter which you select, they're designed to avoid the need to grind solids as they do not clog.
Open screw pumps can handle 22 to 40 degrees inclines, and they do not clog, so screens are not needed. A benefit to the open screw pump is that it can handle anywhere from 90 gallons per minute to 55,000 gallons per minute with lifts of up to 50 feet per stage. Maintenance costs are low, too.
You also have enclosed screw pumps where the screw pump is hidden inside a steel tube. Type C enclosed screw pumps move anywhere from 540 to 35,000 gallons per minute at lifts of up to 60 feet. A Type S enclosed screw pump handles up to 10,000 gallons per minute with a lift of up to 30 feet. You can talk to a screw pump expert to learn more about the pros and cons of these systems when compared to your needs.
Lakeside Equipment Corporation has been a leader in water purification equipment and designs for more than 90 years. We've been designing screw pump systems since 1969 and have the expertise you need to ensure you meet codes. Call our customer service team at 630-837-5640 to learn more about using screw pumps for your sewage pump needs.